Uks is a research, resource and publication centre dedicated to the cause of gender equality and women's development.
Uks strives to achieve gender equality and empower all women across various segments of society through and with in the media by challenging and eliminating the stereotypical and objectifying portrayal and representation of women in media content. Realizing the significance of gender equality as a prerequisite for sustainable development, Uks aims at changing the media mindset by means of advocacy trainings,consultations, publications, monitoring and documentation of the media and production of original media content to ensure balanced reporting from a gender perspective that is free of all sorts of biases, discrimination and sexism.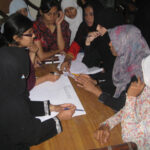 8150 Days of Print Media Archive
Uks Daily media monitoring and Monthly bulletins –Print, electronic and online media scrutinized through the gender lens Daily media monitoring and Monthly analyses for UNICEF – 20 + print and online English,
Urdu and Regional language publications
largest print media archive in the read more
 Upcoming Webinar: This webinar is part of a long-term project called Citizen Engagement for Responsive & Accountable Governance (Cerag) Supported by the European Union, and Omar Asghar Khan Development Foundation had lead implementation responsibility to execute this project. 
 Dialogue for Change:   Provincial Ombudsperson Rakhshanda Naz and Advocate PHC, Mehwish Muhib Kakakhel speaks on inheritance rights of women. Shaista Yasmeen, Projects Manager, Uks introduces a report on a working woman fighting for her inheritance rights, made by Uks Program Team . Watch Here
 Dialogue for Change:    The DfC explored why do the voices of women matter? How could the media make an extra effort in bringing out women and raising their voice within the media and balance the playing field. Watch Here
Ms. Tasneem Ahmar, talks about online harassment faced by female journalists in Pakistan. Watch Here
Uks Research, Resource & Publication Center Islamabad and WACC Global jointly organized a webinar on the topic of Will the media start reporting rape? Read more
        405
Radio & Digital Productions
32 Radio Series
316 Programmes
8 Digital Stories
32 Radio Series
240
Trainings,
Workshops &
Consultations
40 Workshops for over 800 Students
43 Workshops for over 860 Journalists
8 Round Tables & On-Desk Consultations
94 Community Workshops with 2850 Participants
195
Publications
24 Reports & Booklets
17 Desk Diaries
10 Toolkits
06 Global Researchers
22 Brochures
When You are working for a cause which is having empirical evidence, it doesn't mean nothing on the earth can happen, which isn't fitting into the frame devised for that particular cause. Violence Against Women is happening on the ground, no one can deny the facts and figures coming out after the intense monitoring and research practices.  Women in almost every field of life are facing harassment, violence and gender discriminations. If anything happens vice versa it should be taken as an individual case rather than implying it as some whole phenomena in the society, because individual cases cannot be counted equivalent to the wholesome researches proving harassment and violence against women as a reality present in the society to be worried about. Read More
Uks's Gender Equality in Media:
Beyond Advocacy and Awareness calls for a united effort, inclusive of all those involved in the production and presentation of skewed and many a times gender blind content in media, to initiate a conscious, concerted work to produce gender-neutral and gender-sensitive media content. A yearlong initiative, launched in May, 2018 aims to enhance media's role as key influencer in creating positive perceptions on gender-equality as well as prevalent sexism in news and newsrooms. LEARN MORE
Another one of Uks's novel initiatives-Dialogue for Change - is a series of panel discussions with media production teams on ensuring gender-responsive content in the news and entertainment media. Fourth in this series of events was a roundtable with media executives, gender experts and civil society to discuss the long and short-term impact of sexism and misogyny when these are not understood (fully or partially) by public in general and politicians and media in particular. LEARN MORE
Uks held a half-day conference
'Lessons from the Past for a Better Today and Tomorrow' to commemorate the International Women's Day. The panelists discussed the past, present and future of Gender Equality in News and Newsrooms in media in Pakistan. ('Learn more' link to 'news and insights' page. Detailed write-up below) LEARN MORE 
It was during her career as a professional journalist that Tasneem realized the need to sensitize and train the media over coverage of gender based issues which led to the formation of Uks.
Tasneem Ahmar
Founder & Director
When Will Media Learn?

Most, if not all, audiences seem to be fed up with the kind of dramas, soaps are being produced and shown on most of our entertainment channels. Only yesterday, sitting in the waiting area outside a hospital, my attention was caught by a conversation between two women. Read More

Home may be a safe place- but not for everyone!

The second wave of COVID-19 is proving to be more dangerously fatal than the one a few months back. According to recent media reports, Pakistan records 2,829 new COVID-19 cases, 43 deaths and the situation is worsening with each passing day. Read more