From Portrayal to Representation: Where are the Women in Pakistani Media?
An IFJ – Uks Women in Media Mentorship Pilot*project to enhance and support women's leadership development in Pakistan's media industry. Uks, following IFJ's guidelines has selected three female mentees- all working journalists- one each from Karachi, Quetta and Hunza. Divided into three phases, the time frame allocated to the three mentees spanned 1980-2021. A handbook has been shared to guide them through the intensive and in-depth research- both desk and field.
An exciting, immersive and collaborative experience for mentees and mentors, where we expect to be learning from each other and our lived experiences in journalism.
The project is aimed at supporting women in journalism in their understanding of issues that women in the media faced and are still facing, the issues that were taken up in the 80s and how the reporting and content production has changed over the years- for good or bad. The project also aims to guide the mentees into creating innovative and gender-balanced media content, and to support women as activists, unionists, and decision-makers.
COVID-19 times: What does the 'new normal' mean- for you, family, friends, workplace, as well as the global impact?
25th July, 2020
Day Seven – 18th February, 2020: held a discussion on "Understanding Women's Rights and the Feminist Movement in Pakistan"
18th February, 2020 18th February, 2020 Uks, on February 18, held a discussion on "Understanding Women's Rights and the Feminist Movement in Pakistan", under our series-Dialogue for Change- we discussed a number of hidden and obvious issues and how to bring them out through an open debate.
Day Six – 17th February, 2020: held a discussion on "Understanding Women's Rights and the Feminist Movement in Pakistan"
17th February, 2020
Uks, on February 17, held a discussion on "Understanding Women's Rights and the Feminist Movement in Pakistan", under our series-Dialogue for Change- we discussed a number of hidden and obvious issues and how to bring them out through an open debate.
Day Five – 16th February, 2020: held a discussion on "Understanding Women's Rights and the Feminist Movement in Pakistan"
16th February, 2020
Uks, on February 16, held a discussion on "Understanding Women's Rights and the Feminist Movement in Pakistan", under our series-Dialogue for Change- we discussed a number of hidden and obvious issues and how to bring them out through an open debate.
What do SGs mean for Pakistani Women?
Looking at Media Responses and Indifferences- Read Here
Day Four – 15th February, 2020: held a discussion on "Understanding Women's Rights and the Feminist Movement in Pakistan"
15th February, 2020
Uks, on February 15, held a discussion on "Understanding Women's Rights and the Feminist Movement in Pakistan", under our series-Dialogue for Change- we discussed a number of hidden and obvious issues and how to bring them out through an open debate.
Uks' Day Three – 14th February, 2020: Uks marks third day of their new campaign 'Understanding Women's Rights and the Feminist movement'
14th February, 2020
Day Three- 14th February, 2020: Uks marks third day of their new campaign 'Understanding Women's Rights and the Feminist movement'. We will bring an assortment of quotes, opinions and its media productions on issues ranging from 'What is feminism?' to 'What's the best way to introduce and familiarize youth with the concept of feminism?'.
Day Two – 11th February, 2020: held a discussion on "Understanding Women's Rights and the Feminist Movement in Pakistan"
11th February, 2020
Uks, on February 11, held a discussion on "Understanding Women's Rights and the Feminist Movement in Pakistan", under our series-Dialogue for Change- we discussed a number of hidden and obvious issues and how to bring them out through an open debate.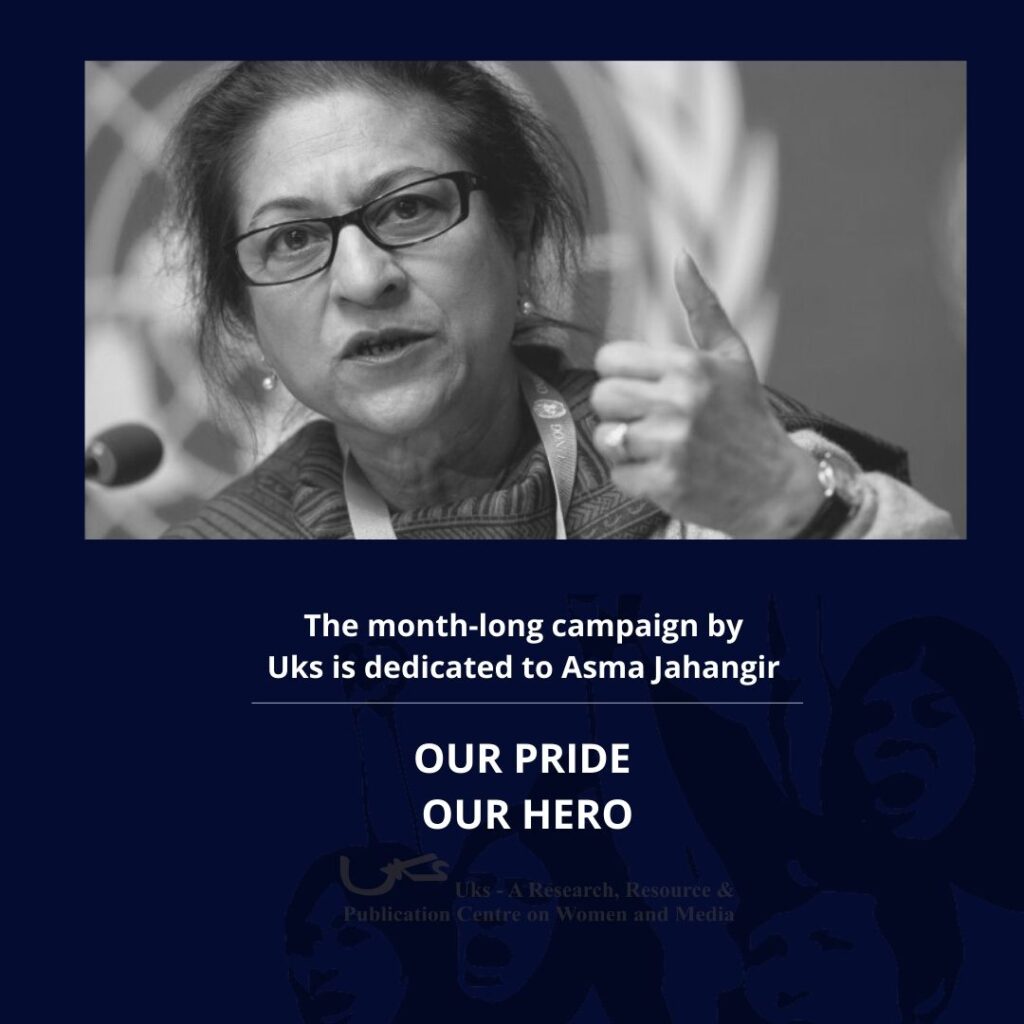 Day One – 10th February, 2020: held a discussion on "Understanding Women's Rights and the Feminist Movement in Pakistan"
10th February, 2020
"It is believed to be anti-men," she pointed out and added that in the rest of the world there's a war going on against the patriarchal mindset, whereas in our society liberalism is just a lifestyle. "We don't have any space for liberal political thinking," she said. Since women started making it to the parliament through the reserved seats, she said, there had been several changes in legislation. "Until we have women in politics and more women in assemblies and more women in political parties, we cannot make the changes that we need.". Award-winning Pakistani screenwriter and director Bee Gul, who has also written critically acclaimed TV play such as Dar Si Jaati Hai Sila, shared her experience of bearing pressures when she tried to challenge the hierarchy of a home in her play. Uks realizes that the struggle is not yet over as there are many obstacles that continue to impede women's progress and empowerment in our country. By celebrating this day, Uks pays tribute to all rights activists and vows to continue in the same spirit," said the organization's director.
Uks, on February 11, held a discussion on "Understanding Women's Rights and the Feminist Movement in Pakistan", under our series-Dialogue for Change- we discussed a number of hidden and obvious issues and how to bring them out through an open debate. Ms. Tasneem Ahmar director Uks conducted the event, people from various media houses, university students and civil society organizations attended the event in Karachi. The event was conducted to honour women activists who almost three decades ago, on February 12 took stand against the patriarchal mindset in Pakistan and held a demonstration in Lahore. They were beaten up by the police and met with shelling and stone-pelting in military dictator Ziaul Haq's era. Since then Uks has been celebrating February 12 as women's empowerment day. Audience shared their experiences and point of views the co-founder and director at Bolo Bhi, an advocacy forum of Digital Rights, Farieha Aziz, shared how feminism is considered as an abusive word in our society. 
Uks' Executive Director, Tasneem Ahmar, gave an insightful interview to Daily Jinnah
July 2019:
Uks' Executive Director, Tasneem Ahmar, gave an insightful interview to Daily Jinnah. She discussed the highly pressing issue of sexism in media and how Uks has been tirelessly working to eliminate the negative portrayal of women in media. She mentioned how media is exploiting women's issues, objectifying them, making jokes out of serious issues, and other matters often for the sake of their ratings.
Conducive Work Environment
July 2019:
Tasneem Ahmar (Director, Uks), Kashmala Tariq (Federal Ombudsperson, Secretariat For Protection against Harassment of Women at Workplace) along with other female journalists talked about working together to ensure conducive work environment for women journalists. They shared their concerns and ways to create women-friendly workplaces and policies..
News and Dialogue for Change -IV
May 2019:
A roundtable discussion was held in Karachi where journalists, politicians and women from different walks of life discussed ways to 'Understanding sexism and misogyny' in our society. The session featured prominent women journalists and social workers including senior journalist Mazhar Abbas, PTI politician Samar Ali Khan and Farieha Aziz, the co-founder and director of Bolo Bhi. Helmed by the executive director of Uks Research Centre, the discussion touched the many ways in which our media uses the two terms — sexism and misogyny — without realizing that they are not one and the same.
Conference on Ending News Media Sexism
May 2019:
Remarking on provision of a better environment and facilities for women in media, Director news for a national channel Rana Jawad talked about how understanding of sexism and creating equitable spaces have evolved and how there has been improvement, naming some exceptional women reporters in mainstream beats that he has worked with; nevertheless acknowledging societal barriers. Senior journalist Amir Mateen added that there have been both positive and negative changes. He also pointed out that young women may join journalism but because of various constraints – from transportation to domestic concerns– not many remain in the profession.
In the first session, Women in News and Newsrooms: Then and Now – Asma Shirazi commenting on fair and equal representation of women in the media said that women journalists are often limited to women's issues, fairs and markets, fashion and so on which is very restricting. She said there were very few girls reporting in the field when she joined TV. Veteran journalist Fauzia Shahid responding to a query regarding threats and harassment faced by women journalists commented that "I did not do typical reporting but investigative pieces and there were threats but there wasn't the sort of frustration we see in society now. The reporters I started working with were never labelled 'bad' women In session two, Gender Equality in News and Newsrooms, Award-winning journalist Amber Shamsi said less than 5pc of the registered journalists with the Pakistan Federal Union of Journalists are women. Many media houses have only a limited number of women who cover restricted beats. 
Launch of Uks' Campaign #NOTFUNNY
February 2019:
Exactly 36 years ago, this same day of February 12, 1983, saw women of Lahore defying the
#NOT FUNNY is now being launched to get people on board in denouncing humour/satire/jokes, language that glorify misogyny
Panel Discussion on sexist and misogynistic (Whatsapp) jokes.
January 2019:
The panellists agreed that there was a need to popularise women-centric literature just like men-centric literature, be it the work of literary giants such as Mushtaq Ahmed Yousufi or poets who talk of women as objects instead of people. They claimed that in the past, ethnic and dialect jokes were the 'in thing' and sexist jokes have replaced them because now women are unstoppable and working in a large number in the media.
As part asa source of laughter and entertainment?
Panelists included Hamna Zubair, writer and culture editor Dawn.com Ayesha Khan, journalist, researcher and author,and Ghazi Salahudd in, senior journalist and columnist. The event was moderated by Tasneem Ahmar, Director Uks Research Centre.
Mr Salahuddin said that such jokes had increased in recent years because women had started matching if not overtaking men in professional lives. "Be it in examinations or jobs at multinational companies, it is women who are ahead of men, and that makes the latter insecure so much so that they vent their frustration through sexist jokes," he said.
He criticised TV channels for lowering their standard to fit the level of the audience instead of educating them. He narrated an incident where when he praised his wife as "my claim to fame", his colleagues thought he was cracking a joke. Ayesha Khan also dismissed these off-colour jokes specifically targeting one gender. She told the audience that these 'not funny' jokes were not acceptable as the malaise had now entered the discomfort zone. In the past, there were no repercussions for these jokes, memes, and comments, but thanks to the electronic and social media, the good voices have now found a platform to counter the bad ones.
Launch of WMCC Smartphone App
November 2018:
Uks is proud to introduce the WMCC hybrid (For android and iOS both) smartphone App to register your complaints! Women's Media Complaint Cell a forum forthe media audiences to register complaints regarding any insensitive or sexist portrayal of women in media in Pakistan -TV, radio, newspapers or online media.So next time don't just cringe when you see anything that's gender-unfairon TV or papers. Pick your phone up and punch away a complaint. Uks will make sure it reaches the producer of that media content, be it news, entertainment or advert!
Come join the Uks campaign!
Become part of changing the stereotyped mind-sets. Participate by registering your complaints with the Women's Media Complaint Cell (WMCC) through Uks
The complaints can be registered using the brand new Smartphone App.
In April 2014, as part of Uks's campaign against the negative portrayal of women through media, Uks Research Centre in collaboration with National Commission on the Status of Women (NCSW) launched a unique pilot by the name of Pakistani Women's Media Complaint Cell (PWMCC). The PWMCC, designed with input from the media and civil society, provided a forum to the public to register their complaints regarding any insensitive or sexistportrayal of women in media in Pakistan -TV, radio, newspapers or online media -through e-mail, social media, the traditional postal service, or through phone.
With National Endowment for Democracy's (NED) support, Uks reactivated the Cell as WMCC-Women's Media Complaint Cell in October, 2015.The WMCC, headquarteredat Uks keeps a record of the filled complaints and collects supporting documentation.
Here's a 2-minute promo video about WMCC, with endorsement messages from renowned media personnel and rights activists.
Dialogue for Change II–Panel Discussion with Cast and Crew of "Motor Cycle Girl"
Karachi, July 2018:
It is through media (in this case, movies) that we train girls and women to have low expectations and train boys to have higher. Sadly,most of our movies reinforce the images of girls/women being submissive and self-objectified, where as boys/men are shown as the dominant and totally in-control characters. Unaware of the biases, most moviegoers do not go to the a tres thinking about gender roles and or how its representation impacts the socio-cultural fabric of a community. This is a slow but deadly way of influencing their mindsets and reinforcing patriarchal, misogynistic and chauvinistic stereotypes. The representation of gender in these films shapes imaginations and identity, aspirations and ambition. Needless to say that projecting women as submissive beings or sex objects (specially the item numbers), creates more hurdles in women's progress, development, empowerment and freedom of expression and mobility. Women are then believed to stay either behind the four walls of their homes, or as an'entertainer' in a club or any similar setting. So imagine, women and girls who make 50 percent (more or less) of the population-globally, who are infinitely diverse in their interests, appearance, ambition, ability, aspirations, but we would never know any of this watching our top rated films. Really, how can we continue with this unreal and destructive story-telling and for how long? This is an issue and needs to be taken up on a priority basis. Though in Pakistan we haven't seen many women-centric movies with clear-cut progressive narrative, there is, however one movie that needs not only to be recognized but also to be applauded which is "Motorcycle Girl". 
Refreshing, bold, realistic and full of strong messages, the movie must be seen by all-girls/women, boys, men, of all classes and ages. The movie should, in fact, be made part of media-cinema curriculum. Motorcycle Girl has brought to life in full strength the fact that women are neither the fairer nor the weaker sex. They are equal, in all ways.
It is in this regard that Uks held a second panel discussion in theseries 'Dialogue for Change"with the cast and crew of this amazing movie.Director and writer, Adnan Sarwar, Sohai Ali Abro who played the lead role and senior actor Shamim Hilali were present.According to Sarwar, the project was a difficult one to sell to financers as most would claim that audiences would not be able to accept the absence of a male lead character, and thus the movie would not be a commercial success.He explained that though the onus to transform society is not just on the media, he hopes that his film can make a small contribution towards a more progressive society.
Sohai lamented that scripts similar to Motorcycle Girl were not being written in the industry."When I first read the script, I was surprised that a man had written it as it was very sensitively written and took into consideration very small details about the life of a woman".
Shamim Hilali recalled the good old days of Pakistani television which were not driven by the ratings game and so gave way to some brilliant productions.
Audiences, she said, have also contributed to the influx of scripts that are not women-centric.She elaborated how there is a need to address what is being communicated and taught in schools to young boys and girls which is promoting a certain set of values and enforcing gender roles that are not progressive and are in fact regressive
The aim of Uks by holding such dialogues is to turn passive viewers and audiences into proactive ones, and ascertain the extent to which news and entertainment content can influence viewers, both male and female.
Dialogue for Change–Panel discussion with Cast and Crew of drama serial "Dar Si Jaati Hai Sila"
Karachi, May 2018:
The first panel discussion featured the team of the recently concluded Hum TV drama serial "Dar Se Jati Hai Sila"which centred round the story of Sila who is sexually abused by a family member,Joee Mama. It was held under the initiativetitled, "Dialogue for Change".
Tasneem Ahmar, Director Uks, welcomed the participants, introduced Uks to audience and panellists, and gave an overview of Uks past activities.Tasneem Ahmar, said,"Non-stereotypical media is a vital element. In quality media content and diverse gender portrayal will result in more interesting and realistic media content for audiences.
She disapproved of the stereotyped portrayal of women where daughters were portrayed as a burden and women were held to be synonymous with the 'honour' of the family. She was of the view that these stereotypes could be negative, limiting and degrading. All this needed to be changed.
Talking about the role of her organization, she saidthat its gender-just media drive over the last two years (2015-2017) took up many challenges, from engaging the media on the voluntary adoption of Uks' gender-sensitive code of ethics, to generating wider public interest in Uks Women's Media Complaint Cell.
Ms. Ahmar requested the panelists to talk about their experience shooting the drama on a topic considered taboo in a Pakistani society. Bee Gul, writer of the play, sharing her experiences said that she was told that her writing was too bold for Pakistani society. She said her writings often addressed topics considered taboo, and many a times her projects almost got her killed! Speaking about the choice of a middle class family structure for the drama she said it was important to speak about the fact that abuse happens in most ordinary of the settings too and it has not spared a middle class joint family system either. She said she wanted to break the myth that the abuse often happens in apparent elite and liberal families. She considered herself lucky that her play script went to Kashif Nisar, director, who had the required sensibility and sensitivity expected for this topic. She believes the issue is so very common in the society that she is surprised that people are not already addressing it.
She said that the Dialogue for Change initiative consisted in turning passive viewers and audiences into active and proactive ones, and to determineas to what extent news and entertainment content influenced viewers.
The writer of the serial, Bee Gul, said that the concept that formed an important part of our TV plays of a poor girl or a very young girl being submissive would have to be revisited, because she thought that was not quite in line with reality.Speaking about reactions to her writing she said that people liked the story but said it was "bold". Therefore there was a lot of hesitance in sending the story for production. She shared that a lot of people after this drama came up to her to share their stories of harassment and how relatable the story was. Ms. Gul said that we usually warn children against strangers often forgetting that majority of the predators are close family members.
Veteran TV star Sakina Samo (character Bari Apa) was of the view that one had to go down to the level of the character being portrayed. While sharing experiences from the set she said that improvisation also made its way into the dialogues. She shared experiences where actors brought into their own creative ideas to by pass conservative laws of censorship imposed upon them.
Ms. Ahmar asked Kashif Nisar how hard he found the direction of the drama written on child sexual abuse and if he faced any resistance. Mr Nisar shared that the challenge for him was how to speak about child sexual abuse in such a 'closed' society. Ms. Ahmar said and Mr Nisar agreed that the picture we often portray of a rapist or predator is far from reality whereas predators are common people among us. Mr. Nisar said that the script was very intelligent and not only socio-cultural but even economic aspect was very cleverly highlighted.
Ms. Gul said that Mr. Nisar faced the challenge of putting the "bold" story on screen and that too with a message that the story was nothing spicy that we wished to 'capitalise on', but a serious sensitive topic.Nisar shared that they received a notice from PEMRA (Pakistan Electronic Media Regulatory Authority) immediately after the second episode was aired. He said that it took time for the audience to digest content of the drama and accept it!
Ms. Gul added that they received three notices from PEMRA in total. One complainant, a woman, said she was feeling uncomfortable with the content of the drama. She said that in her response she wrote that the drama was made exactly to make people uncomfortable! PEMRA's ceased issuing notices to them through after the tragic child sexual abuse incident in Kasur.Mr. Nisar shared that even their own families became uncomfortable and that his mother asked him why he had taken up this project.
Ms Gul also shared that Mr. Nisar had made his 9 and 11-year-old daughters watch this drama. Mr. Nisar agreed and said it was the right age where children should be made aware about such topics.Noman Ejaz (character Joee Mama) shared that he was reluctant initially and had refused the role. He said he wasn't sure if the creators of the drama were as sensitive towards the issue as required. When Mr. Nisar got the script he made him sit and discuss the character once again. That is when Mr Ejaz said he accepted the role. He believes that the topic was handled very carefully and sensitively and it was very well done.
Yumna Zaidi (character Sila) said that a lot of girls reached out to her after the drama and that made her realise survivors found strength in Sila's character. Saman Ansari (character Saadia) shared that people came up to her to express how much they could relate to script because it hit so close to home.
Ms. Gul shared that it was surprising for them that their drama got ratings. She said the ratings further broke the myth that audience do not like to watch dramas on sensitive topics and that was a big success. Advertisers role was also discussed following which Mr. Nisar said that advertisers practically control your content and it is a big issue creative industry is currently facing. Nisar further added that they did not expect the drama to do really well and negotiated with the channel to give drama the space reserved for low-rated dramas!
Ms. Gul further shared how she has often victimized throughout her career for her "bold" content. She said she was surprised that such criticism also comes from women-owned channels.
Regarding location of the set Ms. Gul sugared that the intention of filming in one location was to convey 'suffocation' that a survivor felt.
During the open-discussion a clinical psychologist, Asha Bedar, shared that a lot of myths were shattered with this drama. It also shattered the notion that parents are always right. She shares that trauma in dramas is generally shown as something sensational, but this drama showed it realistically.She adds that typically powerful women in dramas are often shown pulling each other down but in this play while women were fighting they were also supportive of each other at other times, which is the real picture of the society.
At the end of the discussion Moderator Tasneem Ahmar extended her gratitude to the participants of the panel discussion and expressed satisfaction with the results of the discussion.
Panel Discussion on Feminizing News and Views in Pakistani Media
Karachi, April 2018:
Uks held a Panel Discussion on feminising media at Karachi, at Beach Luxury Hotel, on Friday, April 13, 2018.
The event began with an address by Tasneem Ahmar, Executive Director, Uks Research Centre in which she launched the publication 'Uks Kahani'and shared her story of 20 years of Passion and Commitment from the founding of Uks till its 20th Anniversary. She narrated how 20 years ago she single-handedly founded the research centre.She said she started the work by reading Urdu and English newspapers which provided her with an idea of different mindsets for women, especially when it came to crime reporting. `I started making them realise how a certain angle or twist given by them to a story can blow it out of proportion,' she said and stressed the need for a code of ethics.She also shared their various success stories such as including Pakistan in the Global Media Monitoring Project and the launch of Uks'radio internet called `Meri Awaz Suno.'
The panel discussion on Feminizing News and Views in Pakistani Media was moderated by Ms Farieha Aziz. Senior journalist Ms Zubeida Mustafa said that there was a need for more female journalists. She said that when she started her career as a journalist with Dawn, it wasn`t as if she was the first female journalist.
There were other women before her too but who had scattered, hence they didn`t get noticed. `In some caseslike in the cases of Maliha Lodhi and Huma Ahmed, they even broke the glass ceiling.' Kamal Siddiqui, Director of the Centre of Excellence in Journalism at the Institute of Business Administration shared that editors gave women reporters soft beats as they think they don`t have the means or attitude for hard news. He said that when he was the editor of English Daily, and was hiring female reporters he was asked why he was doing that as women go home early to tend to their homes. But he said he had seen a change in the kind of reporting done by women.`If you send a woman to report, you get a better story due to having access,' he said.Uzma Alkarim, Head of the Gender Sensitivity Committee at Geo TV,said she had found people who believed that women don`t step out of their homes to build careers, but only because they were in need.Film-maker and actor Meher Jafri said what society reflected was also filtered down in content. `Our plays and movies show tragedies with weak and victimised women` she said. `But this is also what the viewers like to watch so the sponsors also support such plays and movies.The discussion then turned to what the media house owners wanted.`Money makes the world go round,` reminded Mr.Mustafa. `The owners always have an upper hand and they think in terms of commercialisation first because they are running businesses, ` she said.Mr Siddiqui then pointed out how 40 news channels here,are constantly competing with each other on ratings, which play a big part in getting them advertisements. `In a way, these media houses are being used for their agenda by the advertisers, he said.
Islamabad, March 2018:
Uks Research Centre held a National Conference on "Feminizing Media Bridging the Perception Gap: Challenges and Possibilities" on Wednesday March 28, 2018. The conference brought together eminent personalitiesfrom across Pakistan to unpack issues around 'Feminizing Media', discuss the different factors responsible for gender blindness, biases, sexismin media content and factors that hinder women's entry and movement up the ladder in our media industry.
The event constituted a keynote address by Senator Sherry Rehman, followed by two panel discussions; 'Feminising News and Views in Pakistani Media' and 'Unveiling Uks Kahani' bothled by imposing professionals from the media and civil society.
The audience turn out exceeded hundred and included personalities from media, civil society and media.
In the opening keynote address, Leader of the Opposition in the Senate,Sherry Rehman stated that journalism and democracy were very strongly connected.Women 30 years ago had fewer roles as models and mentors and had to claim their spaces.She addedthat 79 percent age of women in media content are portrayed as victim seven now and the situation is not satisfactory as according to press clubs, women make up only small percentage of the total number of journalists in Pakistan. She said there is a long way to go, although trends are changing with powerful women as anchorpersons who set the tone and agenda of primetime talk shows, but the fact remains that even in those shows, the experts invited to speak are men.She also criticised the media for reporting on what women parliamentarians wear when they come to the National Assembly rather than focusing on their work.
The conference had two discussion sessions.The first was a panel discussion on `Feminizing News and Views in Pakistani Media`, which featured journalists from various media houses.Aaj TV Peshawar Bureau Chief Farzana All spoke about the challenges that women facein leadership positions.She said that in a conservative society like that of Khyber Pakhtunkhwa, she was always treated like a woman first and a boss later. Despite working late and reporting on hard issues in Khyber Agency post-Zarb-i-Azb, she always got to hear `what means she may have used to reach this position`.Activist Jibran Nasir said that as a male consumer of television he believed that channels lacked a basic understanding of the issue and of ethics.He added that more women are working now to balance the economic needs of a family, which has played an important role in changing social dynamics.Women are more aware and empowered, which has helped to break many taboos for them, he said.The second session began with the unveiling of Uks Kahani, a publication describing the organisation`s journey to see the women of Pakistan being respected in their own right as full partners in the progress and prosperity of the country.
Artist and activist Sheema Kermani began the second session with a discussion on art as activism.She noted that dance is often considered the lowest category of art in society and said: `Women are reclaiming their spaces, they should not ask for anyone`s permission when they are adults and must hold the command of their lives in their hands.During the discussion, Dawn CEO Hameed Haroon said the Pakistan media was not a domain where women were employed before 1979.He spoke about how Dawn became an equal opportunity employer, giving preference to women that increased the number of women working there from one to 40 within a year.Former NCSW chairperson Khawar Mumtaz said women journalists have played a great role in women`s rights movements, while renowned poet Kishwar Naheed spoke about the media scenario for women in the 50s and 60s, and the various trends of how women are portrayed in the print media.Ms Naheed also recited poems including Hum Gunahgaar Aurtain and Jootay bechti, mozay bechti aurat mera naam nahi.
The conference provided a vital opportunity to discuss issues in the national context, given our mediascenario at this point in time and in bringing together experts from across the country to share their experiences and input.
Launch of Uks Kahani
Islamabad, March 2018:
Uks Kahani is a first-hand narration by its founder-executive directorMs. Tasneem Ahmar where she has tried to put together the story of 20 years of passion and commitment. The story revealshow a personal urgeto change media's mindset on women's representation and portrayal had slowly been turned into a pro-active campaign. Everything that Uks does, from media monitoring, content analysis to radio programmes and digital stories, all are aimed towards achievinggender equality in the national and regional news media, both for those who deliver it and those featured in it.
The publication was unveiled at the National Conference at Islamabad on March 28, 2018 and later launched in Karachi as well at the Panel Discussion held on April 13, 2018.
Lifetime Achievement Award for the Executive Director of Uks
Uks Research Centre's Founder and Director, Ms Tasneem Ahmar received a lifetime achievement award by Women Chamber of Commerce and Industry for her contribution to women rights and the campaign to sensitise media on women issues.
The award distribution ceremony was organized by Women Chamber of Commerce and Industry (WCCI) Karachi, at Governor House on March 08, 2018. Renowned women working in various fields were present on the occasion. The other awardees included Florence Villers, Saadia Naveed, Munavar Shakir, Momina Duraid, Sophia Saifi, Dr.Iffat Yazdani, and Akram Khatoon.
Uks Turns Twenty
Islamabad, December 18, 2017:
The team of UksResearch Centre celebrated their 20thanniversary here in an informal gathering surrounded by supporters and friends. Former partners, colleagues and friends from all over the world congratulated Uks for its achievements and milestones through video comments played at the event. Tasneem Ahmar, founder/Director of Uks, shared the story of the journey of Uks, sprinkled with witty anecdotes and emotional experiences "Today, we take pride in saying that Uks has emerged as a pioneer, and a leading force to improve the portrayal of women within and through the media".
Uks's Annual desk diary 2018 titled 'Women of Pakistan: Reflections from Yesteryears'wasalso launched at the event.
A panel discussion to commemorate the International Day of Democracy and 70 years of Pakistan-Sept 2017
September 15, 2017, Islamabad:
A panel discussion was held to commemorate the International Day of Democracy and 70 years of Pakistan here with prominent speakers that include Senator Sherry Rehman, Chairperson, National Commission on the Status of Women, Ms Khawar Mumtaz and Senior Anchor person on Current Affairs, Ms Asma Shirazi. Setting the stage for the panel discussion, a digital story "Women of Pakistan: the Past and Present". Produced by Uks Research Centre, the digital story paid tribute to the resilient and courageous women who fought against feudal bureaucracy and military dictatorships. Leading movements and raising their voices against the violation of citizen's rights these women fought parallel battles with misogyny and patriarchal mind-sets.
Ms Khawar Mumtaz remarked "…that the struggles of women in the history of Pakistan began long before its independence… all these stories of these resilient and courageous women must be archived". Commenting on the digital story, Ms Asma Shirazi shared that "…small voices ,[digital stories like these] would all gel together to create noise, loud enough to be heard".
Ms Sherry Rehman commenting on the digital story remarked that "stories of women need to be told and brought to the fore". On the occasion she remarked "… that most women even highly educated ones are not aware of their legal rights. Legislation is the first step towards this awareness….democracy does not mean that everything would be put to right overnight, it is a constant struggle…"
The screening was organized both in Islamabad and Karachi on 15th September and 21st September, 2017 respectively.
OU Pak-US Journalists Exchange Programme –Sept 2017
September, 2017:
The seventh batch of Pakistani Journalists visited US Newsrooms from September 16, to October 5, 2017. There were a total of 11 journalists -6 female journalists and five male -from different cities of Pakistan including Peshawar, Islamabad, Lahore and Karachi.
The delegation of American journalists would be visiting Pakistan. Their visit would be to Karachi and Islamabad. They would be visiting different media houses and sight-seeing.
The seventh batch of Pakistani Journalists visited US Newsrooms from September 16, to October 5, 2017. There were a total of 11 journalists -6 female journalists and five male -from different cities of Pakistan including Peshawar, Islamabad, Lahore and Karachi.
The delegation of American journalists would be visiting Pakistan. Their visit would be to Karachi and Islamabad. They would be visiting different media houses and sight-seeing.
Roundtable on Depiction of Women in Pakistani TV Dramas: Perception vs. Reality
July 2017, Karachi:
Uks held a roundtable consultation on 'with stakeholders of the drama industry, e.g. actors, writers, directors and journalists. Among the participants was veteran actor/music director Arshad Mahmud, well-known playwright and actor Khalid Ahmed, and award-winning director Mohammad Ehteshamuddin.This was the first-time everthat personnel from the entertainment industry were brought together to introduce ethics and gender-responsive content in the industry. The workshop was attended by twenty-nine participants including actors, producers, directors, writers, content heads, theatre directors, filmmakers, creative producers, journalists and media students.
The consultation began with the screening of a digital story 'Kal, Aaj aur Kal'(Yesterday, today and tomorrow), produced by Nabeela Aslam for Uks that looked at the issues of how women were being depicted in television plays in more recent times as compared to earlier plays produced and broadcast by Pakistan Television Corporation, the state-run television channel. The digital story, while acknowledging that some meaningful and strong women-centric plays have been produced in recent years, identified the regressive nature of most TV plays which seek to push women back to being the chattels of men with no personalagency or power over their own lives. The stereotyping is leading to a negative change in the thinking of the audience who essentially comprise all strata of society, and once again gender equality and women's rights are the main target of this assault onwomen.
The discussion that followed the screening was both interactive and interesting. Former gender adviser to the United Nations Dr Salman Asif enthusiastically moderated the roundtable.
Comparing the quality of TV plays being produced over the past few years with dramas of the '70s and '80s, Arshad Mahmud said a vast difference could be seen between what was 'preached' then, and now. He also commented, "Although this discussion has started with the depiction of women in Pakistani dramas, we are also taking a holistic look at the Pakistani entertainment media which I think is a very positive aspect of this gathering".
Theatre veteran and mentor, Khalid Ahmed was of the opinion that, "in the last few decades, the technology has grown by leaps and bounds. The means of communication, filming and video have multiplied tremendously. As a matter of fact, creativity can't grow at the same pace as technology. At this stage of our growth, we are mass producing dramas and films, but just because we have increased the number of mass production houses, it does not mean that we can also mass-produce creativity, art, artists, quality directors and producers. In this era of mass production, hundreds of dramas are being produced every year. It is not really possible to have quality artists and hence quality production in every case. So, the channels do it with the help of set formulas. And this doesn't go hand in hand with creativity"